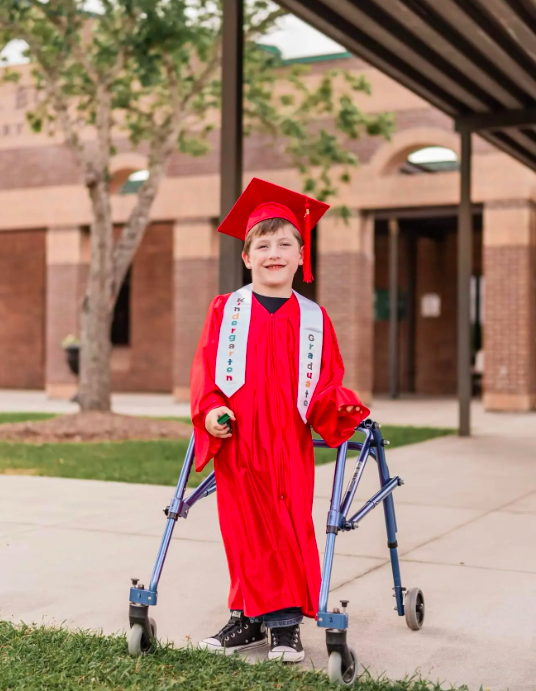 After struggling to conceive a child for what felt like ages, Miranda of Moncks County, South Carolina finally fell pregnant – a miracle that quickly turned into horror when she delivered at 24 weeks in late 2015. At just 1 pound and 12 ounces, her son, Sutton, arrived with life-threatening health issues, including hydrocephalus – a neurological disorder caused by an abnormal buildup of cerebrospinal fluid in the brain that affects more than one million Americans.
During Sutton's 141-day stay in the NICU, he underwent numerous surgeries. When he was finally discharged, he left with a shunt implanted in his brain to help drain the fluid buildup caused by the hydrocephalus. However, the first few years of Sutton's life became a blur of emergency hospitalizations and brain surgeries every time his shunt became blocked. Miranda was forced to relive the trauma from her son's premature birth every time she saw him in another hospital bed. She also constantly worried about the next time her son would require major surgery at a moment's notice.
In early 2020 Sutton's neurosurgeon, Dr. Ramin Eskandari of the Medical University of South Carolina, recommended the ReFlow™ Ventricular System – at that time, a newly FDA-cleared medical device that allows hydrocephalus patients and/or their caregivers to flush the patient's CSF back into the ventricular catheter to maintain, restore or increase hydrocephalus shunt flow with the press of a button. Thanks to ReFlow™, Sutton hasn't been hospitalized or needed surgery in over three years.
Now, Sutton is experiencing life as any 7-year-old would. With his hydrocephalus being managed and his ReFlow™ in place, Sutton's parents feel a sense of control. For Miranda, that means knowing that there is a routine that requires 30 seconds to flush Sutton's device, allowing their family to focus on the other important aspects of life like school, faith, and fun. Looking ahead, she hopes that her family's journey helps others who may be struggling to manage a child's hydrocephalus, and encourages them to ask their doctor about ReFlow™.
Miranda, Sutton, and Dr. Eskandari recently spoke to ABC News 4 to discuss their experiences with ReFlow™. You can watch the full segment here.
The ReFlow™ System Mini and ReFlow™ Mini Flusher are FDA cleared for the following indication:
The ReFlow System Mini and the ReFlow Mini Flusher, used as components of a shunt system, are for use in the treatment of patients with hydrocephalus or conditions where draining or shunting of cerebrospinal fluid (CSF) is medically indicated. The miniaturized ReFlow Mini Flusher may be used by a qualified clinician as a tool to facilitate a noninvasive retrograde fluid flush of the shunt ventricular catheter to unblock inlet holes to restore, increase, or maintain CSF flow. When used with the ReFlow Ventricular Catheter, the flush can also open the ReFlow Ventricular Catheter's relief membrane to restore, increase, or maintain CSF flow. The ReFlow System Mini components are not intended to change the diagnosis, treatment, or follow-up of patients with proximal catheter occlusions. Under the care, direction, and instruction of the treating physician, the ReFlow Mini Flusher may be used as directed for noninvasive flushing by a trained healthcare professional in-clinic or by a trained caregiver or adult patient in a non-clinical environment.

Anuncia Medical Inc. plans to work closely with the medical community and the FDA to conduct larger scale studies to further evaluate use of the ReFlow device to maintain flow.
https://anunciamedical.com/wp-content/uploads/2023/07/7-year-old-Boy-Managing-His-Hydrocephalus-with-ReFlow™-Ventricular-System-Gen-1-Featured-on-Charlestons-ABC-News-4.jpg
430
760
admin
https://anunciamedical.com/wp-content/uploads/2022/11/Anuncia_TM_Web1.png
admin
2023-07-28 16:18:41
2023-08-01 10:25:57
7-year-old Boy Managing His Hydrocephalus with ReFlow™ Ventricular System "Gen 1" Featured on Charleston's ABC News 4